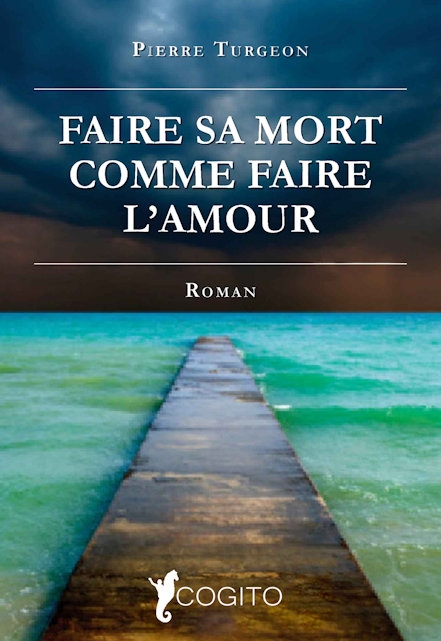 Faire sa mort comme faire l'amour Cogito, 2020
L'ascension et la chute d'une famille bourgeoise : tel est le thème de ce roman, âpre, émouvant et tumultueux, qui affirmait, en 1969, le plein essor du jeune roman québécois. Pierre, le narrateur, est très tôt confronté avec les amours, les violences, les querelles à propos d'une histoire d'héritage. Comme son père Édouard il va connaître l'écroulement des valeurs bourgeoises, les pires incertitudes et va finalement affirmer son indépendance par rapport à ce monde tourmenté. La confession de Pierre est poignante. Elle révèle un talent original, vigoureux et d'une rare profondeur psychologique.
Faire sa mort comme faire l'amour
I don't know when this Norman, whose blood still flows in me, embarked for New France, but the stubborn forehead, the narrow, hard eyes, and the thick neck of my grandfather embody well enough this type of conqueror who was unaware of the greatness of his task, seeing it as a means of getting rich. Vincent married the daughter of a washerwoman out of interest: nervous, whimsical, and a spendthrift, her name was Suzanne. A common love of lucre and the children who were born continuously for ten years or so gave an appearance of solidity to this union of quarrels and deceptions.
At six o'clock every morning, my grandmother piled up in her tumbler the filthy, muddy, greasy linen, not to be taken with tweezers; she opened the steam pipes for the ironing presses, labeled the clothes washed the day before. At seven o'clock, the workers entered the soot-black building where they would work without respite, in unbearable heat, among the panting of the machines and the acid smell of detergents. These girls lived in Saint-Malo, the poor neighborhood of Quebec City; without education, diplomas, or beauty, they lived in terror of Suzanne, virago who knew the fornications of each one and did not hesitate in front of any blackmail if they did not clean the minimum number of shirts indicated on a leather cardboard poster, a number which varied according to the affluence of the customers and the mood of my grandmother.
By dint of quibbling, gesticulating, and scheming, my grandmother saw her business grow, branches and delivery trucks multiply. But, despite her fortune, she could not interfere in the upper-class circles, who considered her an upstart, a worker intoxicated by rapid success. I knew those big houses with gables, with dormer windows, where the voice is muffled between thick walls, in rooms where only a sickly light filters through the Flemish blinds and damasked curtains; houses where lived those chattering, those do-gooders, those emery-covered butchers, that aristocracy of Quebec City: notaries, doctors, lawyers, all good apostles who sleepwalked their way through life, who preached submission to the occupant, who stank of encaustic, mothballs and confessionals; I knew them well enough to …
PIERRE TURGEON
Born in Quebec, October 9, 1947 – The novelist and essayist Pierre Turgeon obtained a Bachelor of Arts in 1967. In 1969, at the age of twenty-two, already a journalist at Perspectives and literary critic at Radio-Canada, Pierre Turgeon creates the literary review L'Illettré with Victor-Lévy Beaulieu. The same year, he published his first novel, Sweet Poison. Several works followed 22 titles in total: novels, essays, plays, film scripts, and historical works. These include The First Person and The Radissonie, both of which win the Governor General's Award for novel and essay respectively.
In 1975, he founded the Quinze publishing house, which he chaired until 1978. There he published numerous authors, including Marie-Claire Blais, Gérard Bessette, Jacques Godbout, Yves Thériault, Jacques Hébert, and Hubert Aquin, before becoming deputy director of the Presses of the University of Montreal (PUM) in 1978. Then, from 1979 to 1982, he directed the editions of the Sogides group, the most important French-language publisher in America. (Les Éditions de l'Homme, Le Jour, Les Quinze). He also publishes software, launching one of the first French text editors (Ultratexte) and the first French spell-checking program (Hugo). Editor-in-chief of the literary review Liberté from 1987 to 1998, he edited controversial issues on the October Crisis and the Oka Crisis, as well as on various political and cultural subjects.
In 1999, he created Trait d'union, a publishing house devoted to poetry, essays, and celebrity biographies, works signed among others by René Lévesque, Pierre Godin, Micheline Lachance, Margaret Atwood. He is the only Canadian publisher to have seen one of his books, a biography of Michael Jackson : Unmasked, reach number one on the New York Times bestseller list. In the meantime, the author continues to be prolific, and in 2000, he published a history of Canada, in collaboration with Don Gilmor, that won the Ex-Libris prize, awarded by the Association of Canadian Booksellers with the mention of Best History of Canada to date.
Today, he is working on the creation of a publishing site entirely devoted to the distribution of English and French eBooks: Cogito, which will go live in early 2021.
Pierre Turgeon fait une entrée fracassante dans notre littérature. Il existe peu d'écrivains d'ici qui pourraient ne pas lui envier son extraordinaire maîtrise de l'art d'écrire. Langue plus que correcte, vocabulaire très riche, style sobre et clair, finesse de l'observation psychologique, variété et fantaisie de l'imagination, profondeur de la vision du monde. Turgeon a toutes ces qualité et d'autres encore. Il faudrait lui payer une rente à vie et le condamner à écrire le plus longtemps possible. – Réginald Martel, La Presse.
Pierre Turgeon réussit ce tour de force de nous conter la vie de ses procréateurs en dosant très habilement le quotidien et le significatif, de sorte qu'il n'y a rien à biffer là-dedans, rien de surchargé, rien de faux. – André Major, Le Devoir