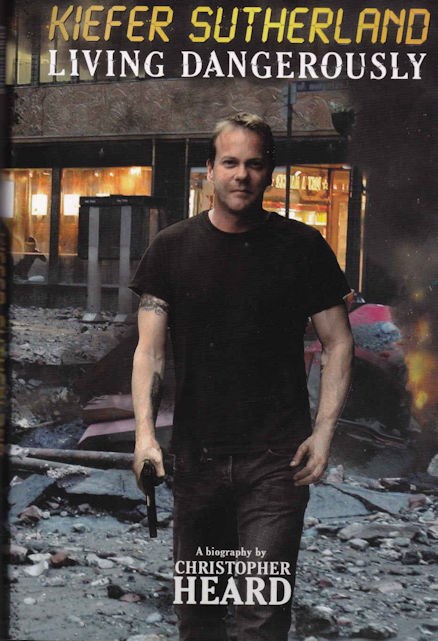 Kiefer Sutherland: Living Dangerously Cogito, 2020
Television viewers know Kiefer Sutherland as the no-holds-barred U.S. counter-terrorist agent Jack Bauer. However, the life of this colorful Canadian actor has also been filled with action, danger, and trouble. Author Christopher Heard unearths Kiefer's dramatic story in his new biography. Once engaged to Julia Roberts, Sutherland's movie career started to slide in the 1990s. At one point, he even left Hollywood entirely. He bought a ranch in Montana and was victorious on the rodeo circuit.
Chance intervened in 2001, when Kiefer accepted a project promoting a "real-time" TV action series. The globally-syndicated Twentieth Century Fox U.S. TV show, 24, has been greatly successful ever since. It made Kiefer an international star beyond his wildest dreams. Today, Kiefer Sutherland is the highest paid actor on television earning at least $40 million per season. Episodes of 24 are broadcast in real time with each season depicting a 24-hour period (with its signature running digital clock and split-screens) in the life of 'Jack Bauer' as the character fights terrorist threats to the United States. This top 20 TV show regularly enjoys over 12 million viewers in the U.S. Kiefer has also starred in over 70 films, including: Dark City (1998), A Time to Kill (1996), The Vanishing (1993), The Three Musketeers (1993), A Few Good Men (1992), Flatliners (1990), Young Guns (1988), The Lost Boys (1987), and Stand by Me (1986).
Kiefer Sutherland: Living Dangerously
A Biography
by Christopher Heard
"I know I should be able to wake up in the morning without going, 'Oh, no! Where's my boot?' or 'Where am I?' or 'One of your friends didn't happen to bring my car home, did they?' It's not a clever way to live, and I don't want to live like that. But it's the kind of trade you have to make."
–Kiefer Sutherland
Despite the ten-month-a-year schedule, and frequent twelve-hour days on the set, being committed to 24 did not temper Sutherland's penchant for excessive drinking and partying. If anything it may have encouraged more of it, as he felt an increased need to let off steam from the pressure cooker of the heavy schedule and the relentless emotional intensity that was necessary to maintain for the screen.
One of the most fascinating things about Sutherland's behavior when he is away from the set, misbehaving and drinking to wild excess, is that he is unapologetic about it. Yes, he has made public apologies to his family and co-workers when his indiscretions have ended up all over the news, and he has undoubtedly made many private apologies to his daughter, stepdaughter and stepsons, and his colleagues as well. But he never issues disingenuous statements that he is changing his ways and seeking help for his problems. Kiefer Sutherland never does that. If he is called to defend himself, he shrugs, smiles his famous sheepish smile, and moves on.
His attitude doesn't come without its price, however. Sutherland carries around a chunk of broken glass in his elbow because of one such encounter with a couple of U.S. servicemen. He decided to take both of them on and confesses, "I got my ass kicked." He remembers rolling around on a floor where there was broken glass but didn't notice anything until he was X-rayed for a broken wrist from another fight. The X-ray detected a mass in his elbow, which turned out to be a piece of glass. "The doctor wanted to open my elbow to remove it, but I said, 'No, it's fine. Just leave it in there.' "
* * * *
At the after-party for the Golden Globes in 2002, Sutherland, still in shock from his win, was approached by a man who proclaimed himself a big fan of the show and of Sutherland. The man was Hugh Hefner. As the two talked, Sutherland mentioned that he had never been invited to the Playboy Mansion. Hefner immediately promised to correct that error, and Sutherland was duly invited to a pajama party at the mansion less than a month later.
Sutherland attended the party with one of his drinking buddies—most single, unattached Hollywood men go to a Hugh Hefner party alone or with a male friend because they know what is waiting for them when they get there. Sutherland's only public comment on that night was related to the place's exterior: "The Mansion had a huge yard, the biggest yard I had ever seen."
But another actor, a Hefner-party regular, reveals that Sutherland got roaring drunk and sat at tables with other men or with some of the party girls there, saying loudly, "I'm in the Playboy Mansion. This is the fucking Playboy Mansion!" He was overwhelmed, perhaps, by all the controlled decadence going on around him. "I don't know if he seriously hooked up with anyone," adds the actor. "But he did disappear a couple of times with women and come back to the party looking a bit flushed and red in the face."
* * * *
A frequent drinking buddy of his relates that Sutherland's drinking was sometimes so out of control that his friends feared for his safety, "We would get together, often by accident. I would run into Kiefer and a friend in a bar or hotel lounge, and all of a sudden we would be drinking like fish together for hours. Kiefer would bang back J&B and coke hand over fist. Kiefer always does some fool-ass thing to make us all laugh. One time he just pulled his pants down around his ankles and sat there bare-assed to just see the kinds of reactions he would get from the people around him. Most just laughed, but one drunken woman came over and offered to blow him right there in the bar."
* * * *
By early 2004, Sutherland's drinking binges were not just legendary, they were a worry for the 24 teams and the studio, 20th Century Fox. Occasionally, his employers were obliged to deal with the consequences of his benders. In January 2004, Sutherland was at a bar where he often went to relax after a series of shooting days and where he is known to drink until the place closes. On this night, he got into a drunken brawl and fought with several other men, breaking furniture and glassware and ending up with his face slashed by broken glass. It took six stitches to close the gash. The bartender insists, "Kiefer did not start this fight; he was only defending himself."
CHRISTOPHER HEARD
Christopher Heard built his career out of a lifetime passion for the history and culture of film and TV. Christopher had a long, Gemini Award-winning stint as a film critic on the CBC program On The Arts. He also served as co-host of the popular syndicated Canadian TV show Reel to Real for nine years.
An entertaining book…the author clearly has a lot of respect for him while probing his darker side – The Toronto Globe and Mail
Editorial Reviews
The 24 show is broadcast globally, including: the UK, Canada, Africa, Europe, Latin America, Asia, Australia, New Zealand and the Middle East
The 24 series on DVD has been a popular best seller with sales exceeding 7.5 million copies for Season 7 alone.
A 24 feature film is to be released after this Emmy- and Golden Globe- award winning show's eighth & final season in May 2010.
Audience:- Devoted fans of 24 wanting the colorful inside story about Kiefer Sutherland: his origins and tempestuous personal life